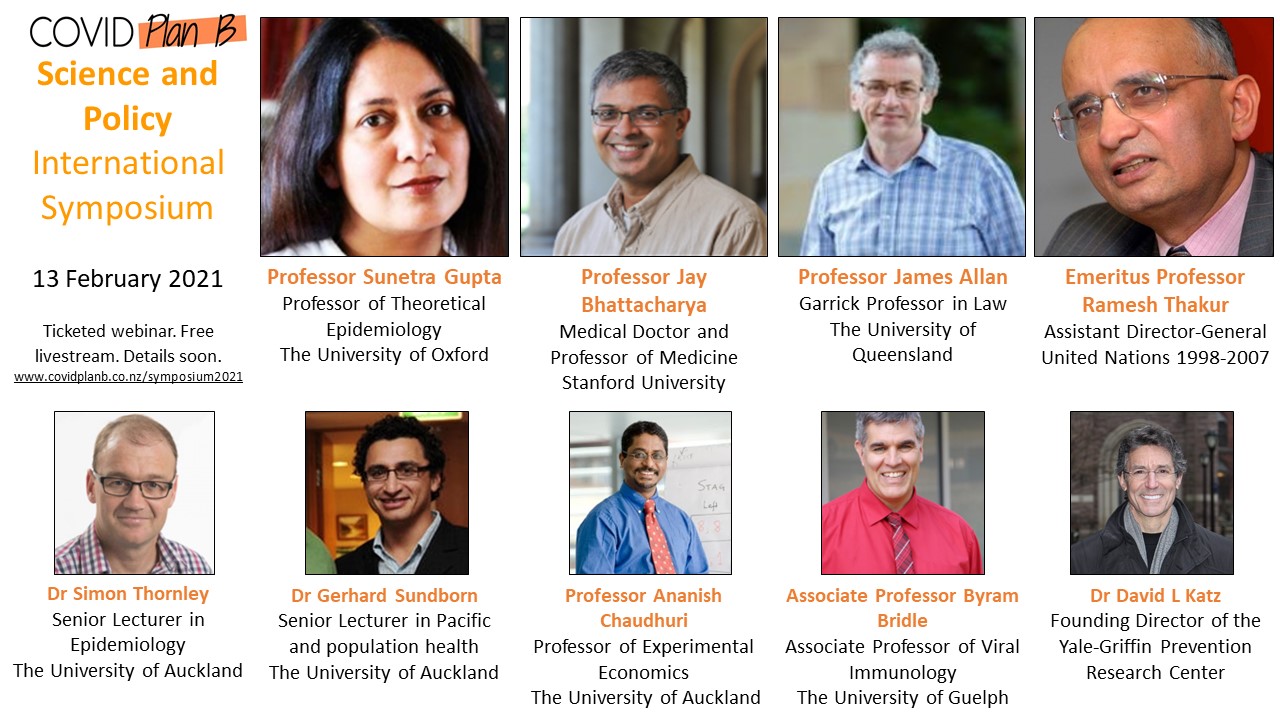 We're holding our second international Symposium on 13 February 2021 (8.30am – 6.30pm NZ time) / 12 February (7:30pm -5:30am GMT/UTC).
Go here for tickets to the webinar. Tickets are only $15. https://www.eventbrite.co.nz/e/covid-19-symposium-2021-zoom-livestream-webinar-tickets-135599713393
Participating in the webinar means you can engage with other freethinkers from around the world, including big names in addition to the presenters. You can ask questions of presenters, participate in our surveys, and share what you know. And you're supporting our efforts.
Note that to ensure widest access to our information a free non-participation YouTube livestream will broadcast separately.
A watch-party is being organised separately for Auckland supporters.
More on the livestream and watch-party later.
The international line up of speakers includes;
Sunetra Gupta, Professor of Theoretical Epidemiology, The University of Oxford
Ramesh Thakur, Crawford School of Public Policy, and former Assistant Director General United Nations 1998-2007.
Jay Bhattacharya, Medical Doctor and Professor of Medicine, Stanford University
David L Katz, Founding director of the Yale-Griffin Prevention Research Center.
Byram Bridle, Associate Professor, Viral Immunologist, The University of Guelph
James Allan, Garrick Professor in Law, TC Beirne School of Law and University of Queensland.
Programme

Symposium 1: 2020. Here's all the details on the 2020 Symposium, plus videos of the presentations. https://www.covidplanb.co.nz/symposium2020/